BNSF Railway announces three new Certified Sites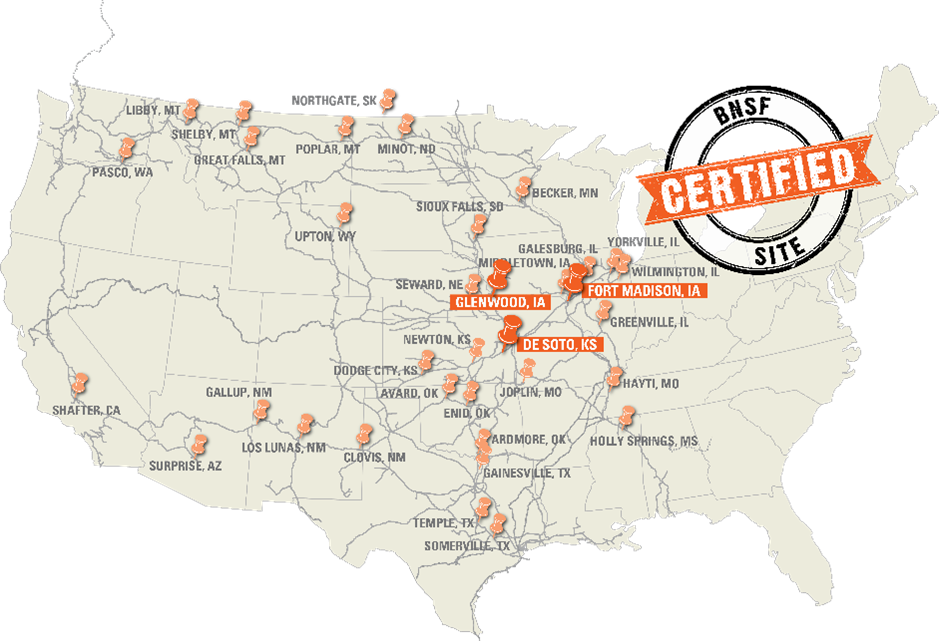 FORT WORTH, Texas – Today, BNSF Railway Company awarded three new locations for its Certified Sites designation. The newly designated sites, located in Fort Madison, Iowa, Glenwood, Iowa, and De Soto, Kansas, feature acreage ready for industrial development. The Certified Sites program is a strategic approach that addresses the increasing demand for customer site locations by developing various types of facilities across BNSF's network.
"We are pleased to add these three new locations to our list of growing certified sites across BNSF's network," said Chris Danos, assistant vice president of economic development. "It's a win-win for our customers who are ready to develop their business offerings through rail, saving them several months of construction time."
To be considered, sites must undergo a thorough analysis, which includes an evaluation of environmental and geotechnical standards, available utilities, site availability and existing and proposed infrastructure. An industry expert reviews BNSF Certified Sites to ensure accurate, reliable data. The goal of the program is to provide an inventory of rail-served sites that are available for immediate development.
The newly designated Certified Sites:
Fort Madison Industrial Site, Fort Madison, Iowa – This eastern Iowa 128-acre site has 116 contiguous acres available for development. It is conveniently located off 4-lane US Highway 61 and is identified as a future economic development growth area for industry in the Fort Madison, IA strategic plan. This site is certified by the Iowa Economic Development Authority.
Mills Crossing Mega Site, Glenwood, Iowa – This 1,600+ acre mega site, is located in Western Iowa, minutes away from I-29 and I-80 via 4-lane Highway 34 and is within the Omaha Metropolitan Statistical Area. This site has also earned its certification by the Iowa Economic Development Authority.
Astra Enterprise Park, De Soto, Kansas – Zoned Light Industrial, this 205-acre site is conveniently located near the BNSF mainline with quick access to both Lawrence and Kansas City. De Soto is also a part of the Kansas City Metropolitan Statistical Area. While only 205 acres have been certified additional acreage will be available at the site as well.
Details of all 35 BNSF Certified Sites are available at bnsf.com/certifiedsites.
Contact:
Kendall Kirkham Sloan
Director of External Communications
Media@BNSF.com