Rail is the most environmentally efficient mode of surface transportation, and our customers recognize it as an effective way to reduce carbon emissions.
At BNSF, we are committed to improving the efficiency of our network in a way that benefits both our customers and the environment.
In 2022, shipping with BNSF enabled our customers to reduce their total carbon emissions by 23.9 million metric tons. That's the equivalent of taking 5.2 million vehicles off the road.*
On average, BNSF trains move one ton of freight nearly 500 miles on just one gallon of diesel fuel.*
On average, trains are three to four times more fuel efficient than their highway counterparts and lower greenhouse gas emissions by more than 75%.**
If 25% of truck traffic moving at least 750 miles went by rail instead, annual greenhouse gas emissions would fall by 13.1 million tons.**
*BNSF Data
**Association of American Railroads Data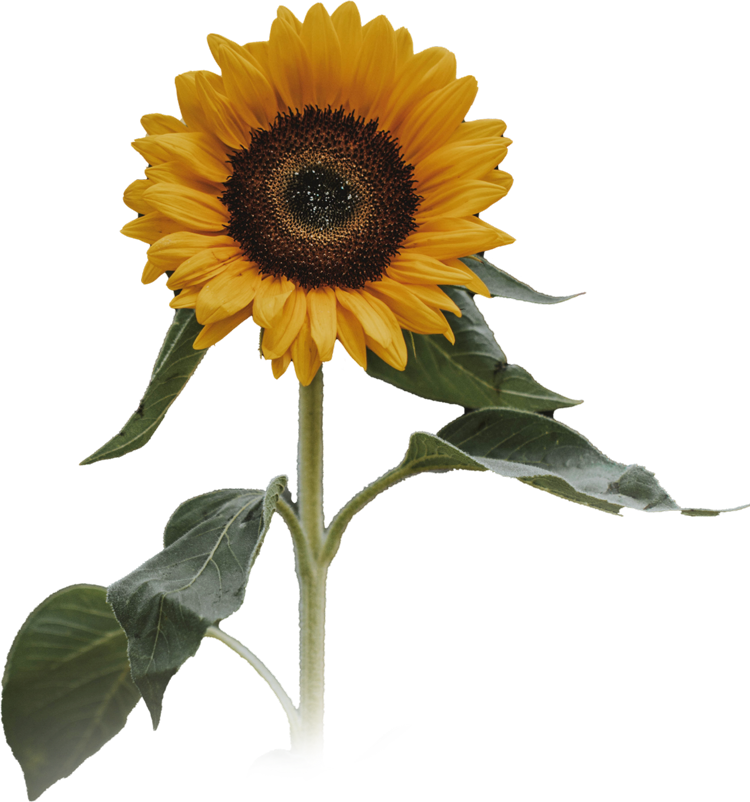 Our customers care
Sustainability is increasingly influencing transportation choices, and the advantages of rail are clear.
By using rail to transport goods, our customers are able to reduce their environmental impact while remaining competitive in the market. That's what makes a partnership with BNSF so effective.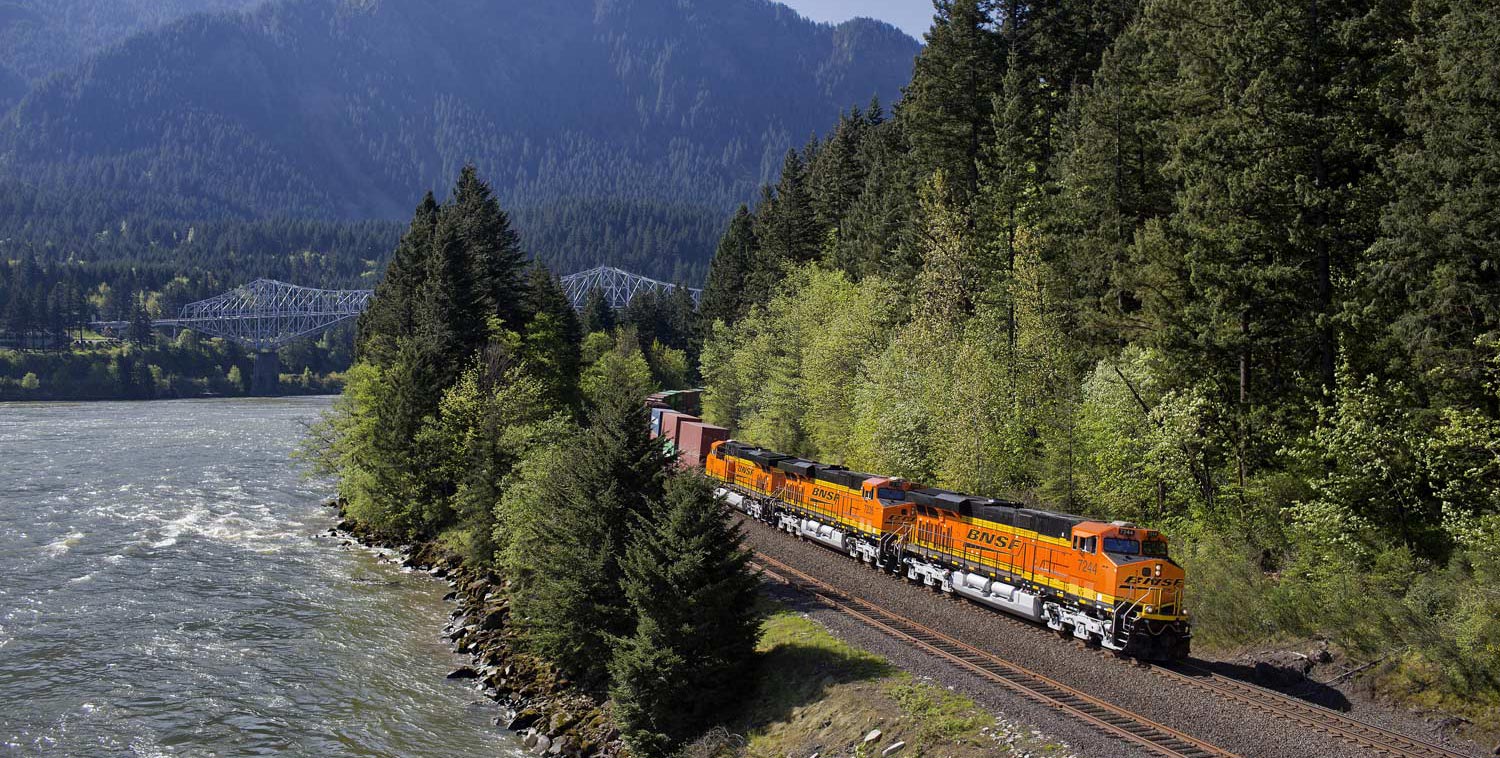 Move freight more than three times as far as trucks per gallon of diesel fuel** and lower greenhouse gas emissions
Manage carbon footprint by managing fuel efficiency and reducing environmental impact
Generate value and maintain competitive edge by reducing transportation emissions
**Association of American Railroads Data
Partnering in the pursuit of sustainability
Consumer Products
(Intermodal, Automotive)
Awarding Sustainability Achievement
BNSF is proud to recognize several companies that have been working alongside us to make their operations more environmentally friendly. Click the link below to learn more about the 2023 BNSF Sustainability Award recipients.
Meet our 2023 Award Winners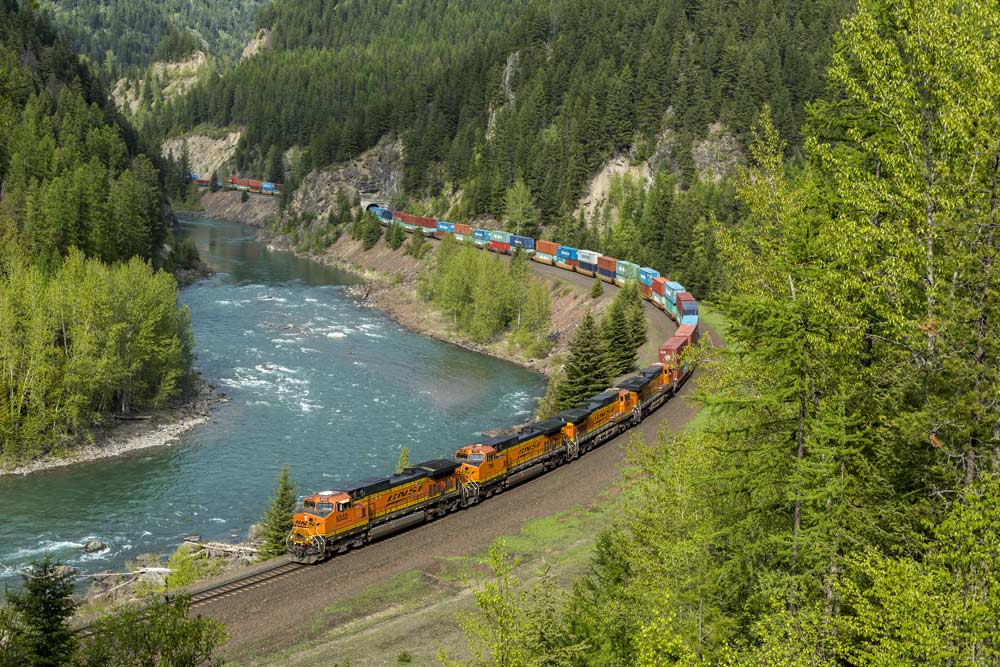 We care
At BNSF, we're doing more than just helping to reduce our customers' carbon emissions. We're also leading the way when it comes to sustainable practices. We're partners in developing the next generation of locomotives, and we're testing new technologies that will reduce carbon emissions.
With these efforts and many more, BNSF is committed to reduce our emissions by 30% by 2030.

Our Strategy: Investing in sustainable technologies
Clean initiatives and technologies take time, money and determination to achieve success. Some will not make it past the drawing board, and those that do undergo significant reengineering. Here are a few initiatives we're working on now:
Partnering in the development of battery-powered locomotives to reduce our environmental impact, increase our fuel efficiency and lower our operational costs.
We have installed idling reduction systems on 98% of our line haul fleet of locomotives.
In 2007, BNSF was the first U.S. rail carrier to use wide-span electric cranes at our intermodal facilities. These cranes produce zero emissions on-site and significantly reduce the number of diesel-powered hostlers—container-moving trucks within BNSF's facilities—needed at our intermodal facilities due to a wider range of motion. Today, we operate 26 of these cranes at our intermodal yards and continue to look for opportunities to expand our use of cleaner and more efficient technologies.
Powering some of our facilities with solar energy.
Testing biodiesel and renewable diesel for use in our locomotives.
Analyzing plant species and site conditions with drones as part of the permitting process for a less invasive and more cost-effective approach.
Choosing suppliers that are engaged in sustainable procurement practices as outlined in our supplier guide.
Recycling 2.8 million railroad ties, 1.2 million pounds of batteries and 2.6 million gallons of lube oil in 2022.
Rehabilitating old railroad sites to reduce environmental impact.
Our Ongoing Efforts
We are always pursuing greater sustainability across our railroad. BNSF is committed to:
Providing customers with a low-carbon option compared with long-haul trucks
Continuing to improve locomotive fuel efficiency and operational efficiency to meet our customers' needs and on-time performance
Investing in network infrastructure and equipment, such as locomotives, that positively impact the environment and our communities
Reaching our carbon emission targets
Moving Forward Together
Contact us to learn more about partnering with BNSF so you can get on the right track with sustainability.
Go orange for the new green